Kitchen Remodeling
admin
Remodeling a kitchen can be a big project, but here are some general steps to follow: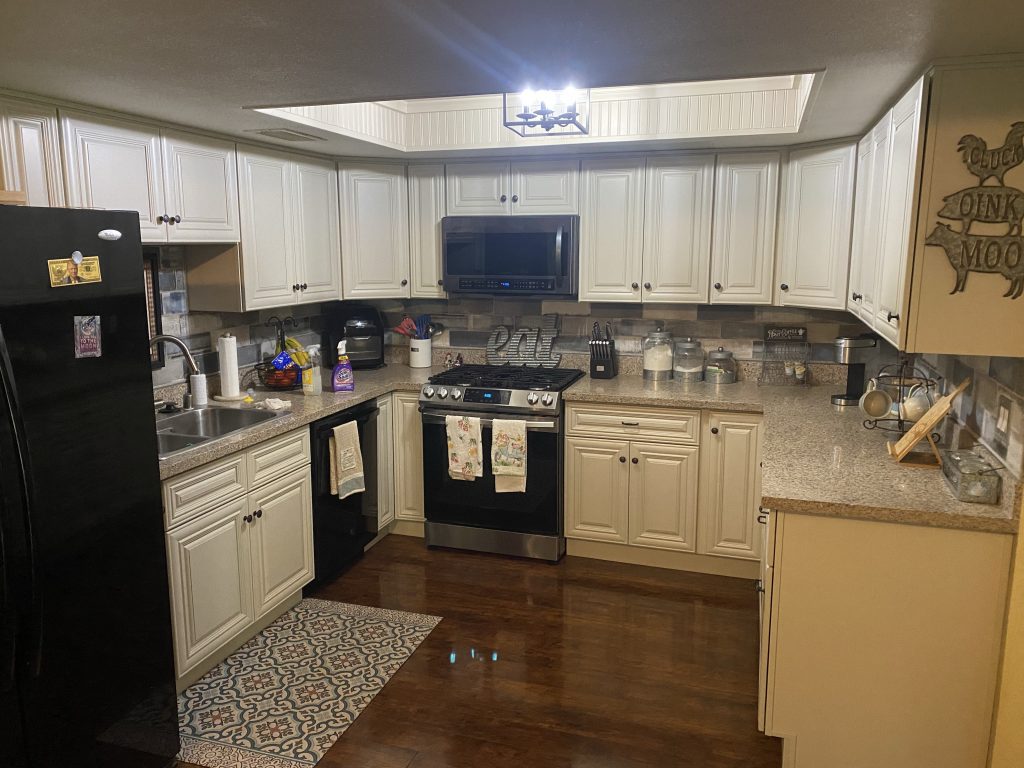 1. Plan out your budget: Determine how much you can afford to spend on the remodel.
2. Decide on the design: Look online for inspiration and decide on the overall style and layout of your new kitchen.
3. Choose materials: Select the materials you want to use for your countertops, cabinets, flooring, lighting, and appliances.
4. Hire a contractor: Find a licensed and experienced contractor who can handle your remodel.
5. Demolition: Remove old cabinets, appliances, and flooring.
6. Installation: Install new cabinets, countertops, flooring, appliances, and lighting.
7. Plumbing and Electrical: Make sure all the necessary plumbing and electrical work is done to ensure your new kitchen is functional.
8. Paint and Finish: Add the final touches such as paint, backsplash, and trim work.
9. Enjoy your new kitchen: Once the work is done, enjoy your new and improved kitchen space!
Remodeling a kitchen can be an exciting and rewarding project that can improve the functionality, appearance, and value of your home. Here are more general steps you can take when remodeling your kitchen:
Set a budget: Determine how much you are willing to spend on the remodel, and make a plan to stay within that budget.
Plan the layout: Consider the flow of your kitchen and make sure your new design optimizes the space for cooking and entertaining. Think about where your appliances will be placed and how much storage you will need.
Choose materials: Select materials for your countertops, cabinets, backsplash, flooring, and fixtures. Consider durability, aesthetics, and cost
Finishing touches: Add finishing touches such as paint, trim, and decorative elements.
Remember that remodeling a kitchen can be a big undertaking, but with careful planning, budgeting, and execution, you can create a space that you love and enjoy for years to come
---
We understand that when it comes to choosing the right kitchen cabinets for your remodel, there are a multitude of factors to consider. From material and style to functionality and budget, the process can be overwhelming. However, with the right information and guidance, you can make informed decisions that will result in the kitchen of your dreams.

Material Matters: Your Options
When it comes to kitchen cabinets, material is an essential factor to consider. The most popular options include wood, laminate, metal, and glass. Each material has its pros and cons, and the choice ultimately depends on your preferences and needs.
Wood cabinets are a classic option that never goes out of style. They offer a warm, natural look that can be stained or painted to match your decor. However, wood is susceptible to scratches and dents, and it requires regular maintenance to keep it looking its best.
Laminate cabinets are a budget-friendly option that is easy to clean and maintain. They come in a wide variety of colors and styles, making them a versatile choice. However, they are not as durable as wood and may require replacement sooner.
Metal cabinets, such as stainless steel or aluminum, are a modern and sleek option. They are incredibly durable and easy to clean, making them ideal for busy kitchens. However, they may not be the best option for traditional or rustic decor styles.
Glass cabinets are a stylish option that can showcase your favorite dishes or decor. They come in various textures and colors, allowing you to customize the look to your liking. However, glass is fragile and may not be suitable for homes with young children or pets.
Style and Functionality: Finding the Perfect Fit
Once you've settled on a material, it's time to consider the style and functionality of your cabinets. The most popular styles include traditional, modern, and transitional. Traditional cabinets feature ornate details and raised panels, while modern cabinets have sleek lines and minimalistic designs. Transitional cabinets are a mix of the two, offering a more relaxed and versatile style.
Functionality is also a crucial factor to consider. Do you need cabinets with pull-out drawers or shelves? Do you need a lazy Susan or corner cabinets? These details may seem small, but they can make a significant difference in how you use your kitchen.
Budget: Finding a Balance
Finally, budget is a critical factor to consider when choosing kitchen cabinets. It's essential to find a balance between quality and cost. While it may be tempting to opt for the cheapest option, it may end up costing you more in the long run. Low-quality cabinets may need to be replaced sooner, resulting in additional expenses.
In conclusion, choosing the right kitchen cabinets for your remodel is a significant decision that requires careful consideration. By understanding your options, considering your style and functionality needs, and finding a balance between quality and cost, you can make informed decisions that will result in the kitchen of your dreams.